Korea Shareholder Activism
Korea Shareholder Activism
Hyundai Motor Group bowed to pressure from billionaire Paul Singer's Elliott Management Corp. by shelving a controversial $8.8 billion deal, marking an unprecedented victory for shareholder activists in South Korea.
The group's Hyundai Mobis Co. unit on Monday withdrew a proposal to sell two of its most lucrative businesses to affiliate Hyundai Glovis Co., Mobis Chief Executive Officer Young-Deuk Lim said in a letter to investors on Monday. The company, which had originally scheduled to put the matter to a shareholders' vote on May 29, will seek approval for an updated restructuring plan at a later date, he wrote.
The collapse of the deal, which one proxy adviser called "profoundly unattractive," represents the biggest victory that Elliott has had in Korea after it narrowly lost a proxy fight with the Samsung Group about three years ago. For Hyundai, the move marks a setback for the founding family, which was counting on the sale to be the centerpiece of a larger reorganization that could help pave the way for succession at the country's second-largest family-run conglomerate.
"This is a victory for shareholders," Kim Joon-sung, an analyst at Meritz Securities Co., said by phone. "It is a big change for Hyundai to acknowledge that it is hard to take actions that lack consensus among shareholders. I expect Hyundai to bring up a new or revised restructuring plan, which has better offerings to shareholders."
A representative for Elliott declined to comment. Singer's fund, which bought more than $1 billion in shares of Hyundai units, had been leading a campaign since last month to oppose the transaction, questioning the deal's logic and arguing that Mobis minority shareholders would lose out from selling prized assets at artificially low prices. The fund soon won the support of the world's two most influential proxy advisory firms — Glass Lewis & Co. and Institutional Shareholder Services Inc. — who recommended investors vote against the proposal.
Beyond Korea, shareholder activists have become increasingly busy in Asia in recent years, particularly in Japan. Investors from Dan Loeb to Seth Fischer's Oasis Management Co. have called for changes at companies ranging from Sony Corp. to Fanuc Corp. and GMO Internet Inc. Pressure from billionaire Carl Icahn prompted Xerox Corp. to call off a $6.1 billion takeover by Fujifilm Holdings Corp.
Amid the assault from one of the world's most tenacious activist investors, Hyundai went on the defensive, saying that the transaction would help remove long-criticized circular shareholdings at the group, and that it was in the best interest of the companies and shareholders. Hyundai's heir-apparent, Vice Chairman Euisun Chung, even gave his first-ever interview with media, defending the deal.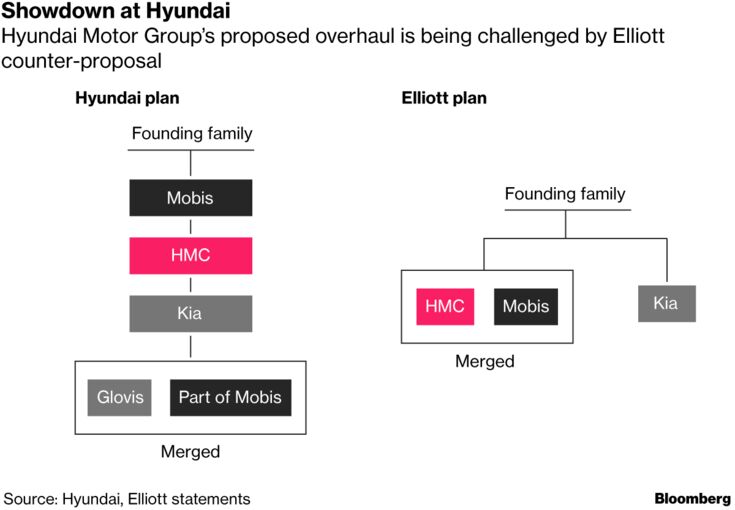 When Hyundai, a sprawling group of 56 companies with more than $200 billion in assets, first announced the restructuring plan in late March, it was welcomed by Fair Trade Commission Chairman Kim Sang-jo. Kim was a former shareholder activist who now oversees the nation's big businesses.
"We expect shareholders and management to smoothly communicate and have a better alternative," a Fair Trade Commission spokesman said by phone after Hyundai's announcement on Monday.
Hyundai's charm offensive convinced some local investors including Truston Asset Management, which said it would vote in favor of the Hyundai plan as the Seoul-based fund concluded it couldn't find a better plan to resolve issues with circular shareholdings.
Read more on how the Hyundai deal presented a dilemma for Korea's big pension fund
But the support of some local funds came to no avail as the group decided to shelve the plan.
"Our communications with our shareholders and the market regarding the need for the restructuring were insufficient," Mobis's Lim said. "Hyundai Mobis will withdraw the proposal in its current form in order to have an opportunity to supplement and improve the restructuring plan."
Mobis shares climbed 1.1 percent to close at 241,500 won on Monday, while Glovis increased 0.7 percent. Hyundai made its announcement after the close of trading in Seoul.
 ****
Korea Shareholder Activism
Korea Shareholder Activism