Thomson Reuters
Financial, risk unit valued at about $20 billion, person says – Thomson Reuters board expected to meet Tuesday. Combined entity will compete with Bloomberg.
Thomson Reuters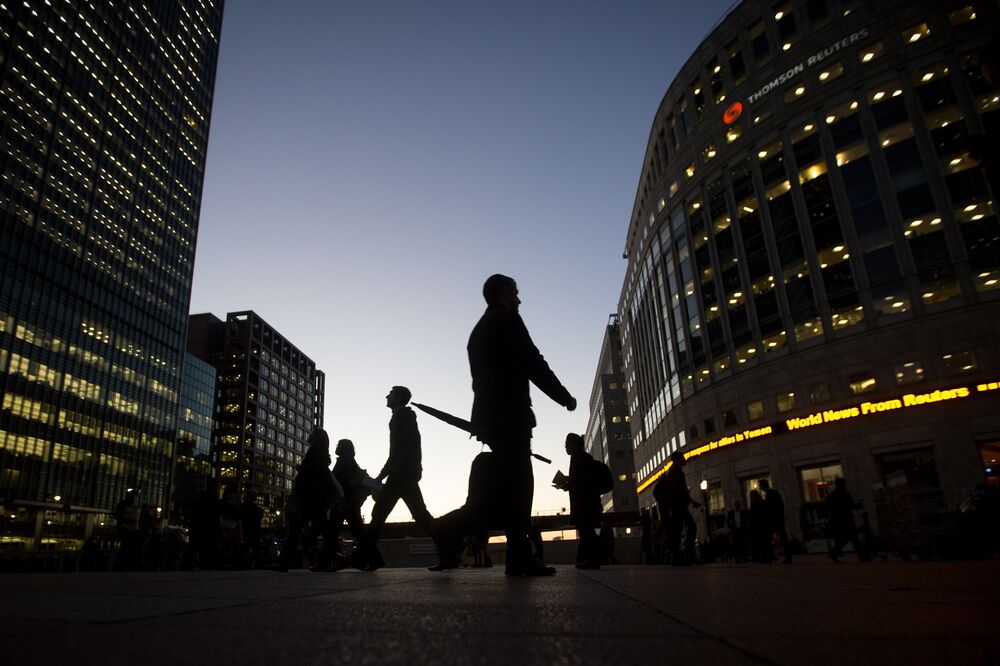 Thomson Reuters building, right, in the Canary Wharf district of London.
Blackstone Group LP, the private equity giant led by Stephen Schwarzman, is considering its biggest foray yet into the $27 billion-a-year industry for financial information.
The firm is in talks to buy a 55 percent stake in Thomson Reuters Corp.'s largest unit, which supplies data and analytical tools to financial professionals, a person familiar with the matter said. Thomson Reuters, controlled by one of Canada's richest families, would cede its flagship Eikon terminal business while keeping the news operations, as well as ownership of its legal, tax and accounting arm.
The division is worth about $20 billion, the person said, meaning any purchase would be one of the largest transactions in the industry since Thomson took over Reuters in 2008. Should it go ahead, Blackstone would compete directly with Bloomberg LP and News Corp.'s Dow Jones division in selling financial services and trading tools.
"For Blackstone, the simple attraction is fairly clear," said Neil Campling, an analyst at Mirabaud Securities Ltd. in London, pointing to the high proportion of recurring subscription-based revenue at the financial and risk unit.
Advanced Talks
While the talks are advanced, they may or may not lead to a deal, Toronto-based Thomson Reuters said in a statement late Monday. The board of Thomson Reuters is expected to meet Tuesday to discuss the deal, Reuters reported earlier.
Blackstone already owns the financial-technology firm Ipreo Holdings LLC, which it purchased together with Goldman Sachs Group Inc. for $975 million in 2014. Blackstone declined to comment.
The Thomson Reuters financial and risk unit, which also sells regulatory and risk management solutions to customers, got 77 percent of its $6.1 billion in revenue in 2016 from subscriptions to its products and 15 percent from transaction fees. The news service is expected to continue to supply Eikon and other products, according to a report by Reuters.
Bloomberg LP, the parent company of Bloomberg News, competes with Thomson Reuters in providing news, data and information to the financial industry. Peter Grauer, chairman of Bloomberg LP, is a non-executive director at Blackstone.
Bloomberg had a 33.4 percent market share, according to 2016 data, compared with 23.1 for Thomson Reuters, according to Burton-Taylor International Consulting LLC.
A deal would force Thomson Reuters to consider the future of the loss-making unit where the news business resides, which it already reports separately from the financial and risk unit that drives more than half of earnings. The corporate division, including news, reported a $321 million loss in adjusted earnings before interest, taxes, depreciation and amortization in 2016.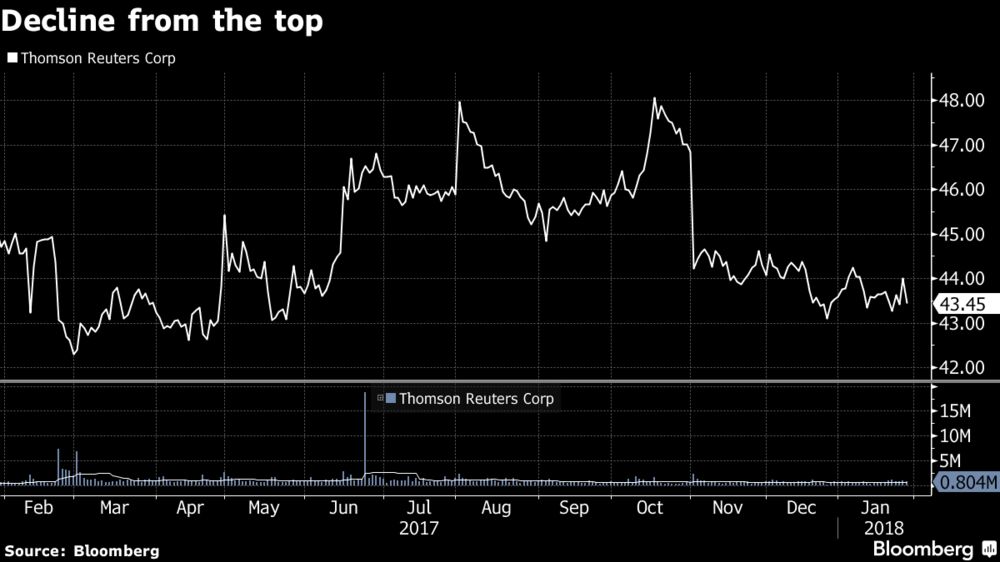 Thomson Reuters shares have retreated since October after third-quarter revenue missed analysts' estimates. The company has a current market value of $30.8 billion. Chief Executive Officer James C. Smith attributed that shortfall to potential customers delaying decisions amid regulatory changes resulting from the European Union's Markets in Financial Instruments Directive, or MiFID II.
In 2012, Thomson Reuters sold its healthcare unit, which provided data and analysis to hospitals, government agencies and employers, to Veritas Capital for $1.25 billion. In 2016, it offloaded its intellectual property and science division to Onex Corp. and Baring Private Equity Asia for $3.55 billion.
The division for sale makes up about half of the company's profit. Any transaction would add to the $105 billion of private-equity deals targeting the media and technology industries over the past 12 months, according to data compiled by Bloomberg.
Thomson  is controlled by Woodbridge Co., an Ontario, Canada-based holding company that manages the assets of the Thomson family. According to a regulatory filing last month, Woodbridge holds 63.6 percent of Thomson Reuters shares. The Thomsons, descended from company founder Roy Thomson, remain some of the richest people in Canada.
— With assistance by Rachel Chang, Cathy Chan, Marcus Wright, Ben Scent, Timothy Sifert, Thomas Seal, and Joe Mayes